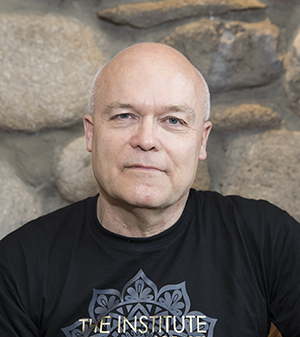 Reinhard is the founder and the director of the Institute of Energetic Sciences, Intuition, and Healing. He has trained a team of gifted therapists and healers to work with him. Reinhard has worked as a healer and spiritual therapist for over twenty years, specializing in Essence, Energy, Gestalt, Family, and Relationship therapies. He has led open evenings, intensive workshops, and a wholistic year-long training in Europe and the US. An important inspiration was his personal meeting with Bhagwan Shree Rajneesh(Osho) in Poona, India, where he took Sannyas and was personally initiated in 1976. He later met with Papaji of Lucknow, who left a deep impression on him. He was trained extensively in many areas of humanistic psychology and meditation and lived in spiritually oriented growth communities in India, Hawaii, and Europe for many years. During this time he met with Sri Krishnamurti, Dr.Vasant Lad, Pir Vilayat Khan, John Graham, Elisabeth Kuebler Ross, and other spiritual teachers, present at this time in India and Europe.
He is especially interested in the work of Sri Goenka, who brought Vipassana to the West. He is trained in Rebirthing(Leonard Orr), Energy Work and Emotional Release, Encounter and Primal Scream Therapy, and Hypnosis and Hypnotherapy. He is a trained bodyworker and teaches Shiatsu, Tui Na, Energy, and Aura Healing in his seminars. An important influence in his work is his spiritual connection and intensive work with the dolphins and humpback whales, which he encountered on the islands of Maui(Hawaii) and Roatan (Honduras).
Other important influences are his work with the Shamans and the aboriginal tribes of the tropical rain forests in Ecuador and Brasil. He combines in his work Western therapies and the meditative processes of the East  His work is led by deep compassion, transcendent humor, and nurturing a love for each individual.